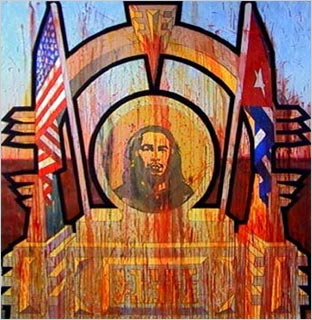 Glexis Novoa
"El Hombre Nuevo" (self-portrait)
Acrylic on canvas
78" x 78"
Dactyl Foundation
64 Grand Street (b. Wooster & West Broadway)
New York, NY 10013
Tel: (212) 219-2344
Date: May 26, 2005
Time: 5:30 pm

New York, May 12, 2005 - Cuba Art NY announces BRIDGES: Cuban Art Outside Cuba, a panel discussion with three well known experts on Latin American Art - Ricardo Viera, Director of Galleries and Professor of Museum Studies, Lehigh University; Alejandro Anreus, Associate Professor of Art History and Latin American Studies, William Paterson University; and Jorge Moya, advertising executive and leading collector of contemporary Cuban art, to take place on May 26, 2005 at 5:30 pm at Dactyl Foundation, 64 Grand Street, NYC. Following the discussion, the panel will answer questions from the audience.
This event is part a groundbreaking exhibition on Cuban Art that is taking place at the same location during the month of May. Interest in Cuban Art shows no signs of abating and this month long exhibition highlights the refinement and creativity of some of today's most important Cuban artists.
Silvia Lizama Spain Series:
"TB Hospital"
Hand colored toned
silver gelatin print
15" x 15" app.

Abelardo Morell "Camera Obscura Image of El Vedado, Habana, Looking Northwest", 2002
Gelatin silver print mounted to aluminum
30" x 40"